Welcome to nicos AG
nicos AG specializes in secure, global data communications. We connect globally active medium-sized companies with their international locations and production facilities via data networks (wide area networks) and ensure reliable, high-performance IT infrastructure as well as protected collaboration between company locations worldwide. Round the clock. 365 days a year.
We have more than 4,000 network services in operation at over 2,000 locations in 130 countries.
Partner of medium-sized companies.
Our clients are medium-sized, internationally operating companies and market leaders in their field.
With 20 years of global market experience and knowledge of the worldwide communication infrastructure, we offer our clients solutions for sophisticated technical demands.
We have a deep understanding of the special requirements and business models of medium-sized, internationally active companies. As a strategic partner, we assume overall responsibility and manage the entire data network – worldwide and at any time, so that our clients can focus successfully on their day-to-day business.
Advantages of a company group
Specialization and synergetic interaction
nicos group is comprised of five companies. Thematically specialized, nicos AG – with its four subsidiaries – is spread across three continents.
nicos AG offers the complete portfolio of single-source services, ranging from design and implementation to the secure 24/7 operation of global data networks. At the nicos AG headquarters in Muenster (Westphalia) Germany, network specialists provide secure 24/7 operations, assisted by competent professionals from our subsidiaries woyn (located in the Philippines) and nicos Australia.
In order to offer our clients optimum protection from Internet hazards and cyber attacks, nicos Service Operation Center's services are complemented by a Cyber Defense Center – supported by specialists from our subsidiary nicos cyber defense.
Exploring new possibilities for the development of intelligent communication channels is at the focus of nicos Research & Development specialists.
nicos group of companies: Specialists. Complementing each other – exploiting mutual synergy effects.
The experts in secure, global data communications.
Mentality & views
High quality & efficiency
nicos AG is the partner of medium-sized companies for high-quality, efficient services from the planning and construction to the secure 24/7 operation of worldwide data networks and related services.
Innovativeness in combination with long-standing experience in the design, setup, and operation of data networks are the foundation for our success. Behind this is a competent team of more than 160 dedicated, highly qualified employees.
With passion & commitment for our clients
Our employees are the interface to our clients. They make innovations possible, develop successful strategies, and implement them with the greatest passion and commitment. They take on various roles in client projects and are understood as architects and lawyers, construction or operation managers as well as moderators. In doing so, they ensure smooth workflows in the planning, building, and operation phases.
Diverse, interdisciplinary teams
nicos unites competent and qualified employees from over 15 nations. We work cross-divisionally in interdisciplinary teams. With our open communication culture and intensive exchanges with our clients, we recognize needs and expectations early on, and are able to react with innovative solutions to new requirements in a client-specific manner.
Overall responsibility for your network
International data networks are characterized by a high degree of complexity and numerous components from a wide range of providers. At the same time, market requirements for internationalization also lead to changes in organization, technology, IT and company strategy. This, too, has an impact on data communication requirements. For this reason, a service provider is required who takes on overall responsibility for the network, implements flexible adaptations to changing requirements, and safeguards network operations.
The heads of nicos
Axel Metzger, Thomas Brosch and Robert Holm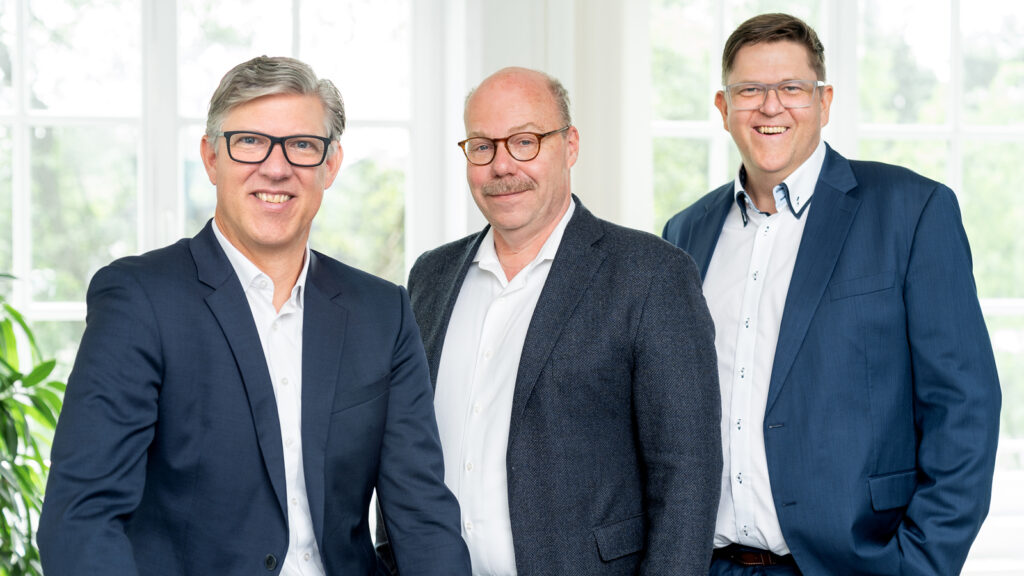 Robert Holm (photo: left) completed his schooling in Cape Town, where he spent many years of his youth. He then returned to Germany to study business administration at the University of Hamburg. Straight after his graduation he joined Bertelsmann as an executive assistant. Robert Holm subsequently held various positions with the Bertelsmann Group and his role as managing director also led him abroad.  In 2020 he moved to nicos with the clear goal of developing his positive energy and diverse sales experience in a medium-sized company.
After graduating from high school, Axel Metzger (photo: middle) completed his studies in business administration at the University of Frankfurt/Main, directly afterwoods joining an international auditing and tax consulting firm as a consultant. After graduating as a tax advisor, he went to work as CFO for an IT company, through which the connection to nicos came about. He then moved to the position of Managing Director at the major international law firm Baker McKenzie in Frankfurt/Main, for which he also implemented national and international projects. The connection to nicos remained over all these years, as he worked for them in an advisory capacity. And so he moved to Westphalia in 2019 into a board position. Axel Metzger has played a decisive role in the development of nicos over many years.
Initially, Thomas Brosch (photo: right), founder of nicos AG, was supposed to train as a machine fitter, however, finding nothing suitable he switched to data processing. His experience as an employee in the system house business as well as a deep understanding of the needs of internationally operating medium-sized companies form the foundation on which he founded nicos AG in 2000 and further developed it over the following 20 years. Thomas Brosch is the technical mastermind behind nicos group.
The three colleagues on the board are united not only by the importance of family values, responsibility for the employees and responsibility of the employees, but also by the clear idea that quality, innovation and sustainability are the decisive parameters.
In cooperation with partners: State-of-the-Art & innovative
nicos offers outstanding quality and reliability in data communications. Provider-independence and trans-technology concepts, ensure both efficiency and cost effectiveness. We cooperate closely with our partners and manufacturers, accompanying the development of new WAN-components through direct dialogue. We know the market and we know when new products are available, making us one of the first companies to implement proven and tested components and technologies.
Our partnership with global technology leaders safeguard your network's future viability.
Moreover, as certified Cisco Select Certified Partner and Fortinet Silver Partner as well as a Partner of Riverbed, we are in a position to quickly and flexibly respond to meet your technical requirements, providing high quality network components at fair prices. Together with our Partner "128 Technology", we offer you innovative solutions, making your network simpler, more agile and more secure, simultaneously increasing flexibility and reducing overall expenses.
Learn more
By accessing a multitude of technologies, we are in a position to flexibly meet even the most diverse requirements and to guarantee the utmost security, application performance and maximum IT-availability.
Memberships
With the Alliance for Cyber Security founded in 2012, the Federal Office for Information Security (BSI) aims to strengthen Germany's resilience against cyber attacks.
Currently, 3312 companies and institutions are already part of the initiative—with new members joining each day.
IT service provision and consulting companies as well as IT manufacturers are represented in the network, as are user companies of all sizes and industries. This diversity is essential for guaranteeing a comprehensive sharing of IT expertise and user experiences, from which all involved parties benefit.
105 partners and 81 multipliers are actively involved in the initiative, thereby making a valuable contribution to increased cyber security in the business hub that is Germany.
The BVMW is a politically independent association which caters for all commercial branches and professions, and represents the interests of small
and medium-sized businesses in politics, with administrative authorities, with trade unions and with major companies. Medium-sized businesses – around 3.3 million individual enterprises in all – are the backbone and impulse of the German economy.
Through their membership of the BVMW, the companies assist in strengthening the situation of small and medium-sized businesses and enable them to secure a more powerful position.
The BVMW
concentrates the power of small and medium-sized businesses
fights for an improved economic and political framework at national as well as at regional and local levels
influences legal Bills and regulations
creates a platform for the opinions of small and medium-sized businesses
As an umbrella organization, the Association of German Chambers of Commerce and Industry (DIHK) coordinates with the Chambers of Commerce and Industry (IHKs) and, on their behalf, represents the commercial interests of the German economy vis-à-vis decision-makers in national politics and European institutions. DIHK Service GmbH provides support in this regard. Unlike other commercial organizations, in particular the industry associations, the DIHK has a wide base it can rely on: 3.6 million commercial companies from all sectors and of all sizes are statutory members of the IHKs. The resulting necessary balancing of interests makes the DIHK independent of individual interests and means that the organization carries particular weight when it comes to politics, the authorities, and institutions.
The German Institute for Standardization (DIN) is the independent platform for specifications and standards in Germany and worldwide. As a partner of the economy, research, and society, DIN contributes significantly to developing innovations until they are market-ready and tapping into future-oriented fields such as Industry 4.0 and smart cities.
Around 33,500 experts from economy and research, from consumer and public sectors contribute their specialist know-how to the standardization process, which the DIN manages as a privately organized "project manager." The results are market-driven specifications and standards which promote worldwide trade and drive rationalization, quality assurance, the protection of society and the environment, as well as security, safety and understanding.
As a representative of the political interests of family companies, DIE FAMILIENUNTERNEHMER e.V. has developed into a recognized and sought-after political advisor and an important entrepreneurial network over the past six decades.
Its members run companies which their own family or other families own a substantial amount of, or which they are sole owners of. For listed companies, the family and/or the individual must possess at least 25 percent of the voting rights.
Digital Hub münsterLAND drives the digital economy via the networking of companies, the sciences, institutions, associations, and startups. The core idea of the hub is for creative startups to drive forward innovative digital business processes and models with established companies, and ideally contribute to value creation in the Münsterland region in this manner. Activities take place jointly in a central experimentation and learning environment with connected co-working space and a fabrication laboratory at the port in Münster, where a great number of networking events also take place.
The hub is part of the funding initiative "DWNRW Hubs." Digitale Wirtschaft NRW (#DWNRW) (lit. Digital Economy North-Rhine Westphalia) is an initiative of the Ministry of Economic Affairs, Innovation, Digitalization, and Energy of the State of North-Rhine Westphalia.
Corporate responsibility:
Entrepreneurial commitment in Germany must increasingly be seen on a global scale. Globalization, climate protection and demographic change are the key challenges that responsible entrepreneurs will have to face in the coming years. This applies not only to large corporations, but also to small and medium-sized enterprises. As the backbone of the German economy, SMEs create and maintain jobs and apprenticeships, and represent the innovative capacity of the location. In future, small and medium-sized enterprises find the right partner to expand sustainable and future-proof structures and to survive in international competition.
future was founded in 1986 by a number of responsible SMEs who wanted to show how the fledgling concept of environmental protection could be proactively put into practice within the company. With future, they created a platform for implementation. The motto was "Helping people to help themselves", which was intended to emphasize that socially responsible action in the sense of environmental protection can best be achieved through entrepreneurial self-responsibility and does not require excessive state regulation. In the understanding of the founding personalities, economic success and environmentally conscious action did not form a contradiction, but were closely linked. As an "environmental initiative of companies," future developed practical solutions to concrete problems. Companies that set up a corporate eco-balance, participated in the European Eco-Management and Audit Scheme (EMAS) or introduced another environmental management system were supported by future. The future network of environmental officers provided a forum for the exchange of experience among those who bring environmental protection to life in their companies on a daily basis. The ranking of environmental reports, which future developed together with the Institute for Ecological Economy Research (Institut für Ökologische Wirtschaftsforschung, IÖW), provided those who were committed with criteria for improvement and a way to compare themselves with the competition. The future member magazine "Unternehmen und Umwelt" (Companies and the Environment) continuously reported on new developments and explained "good" and "best practice".
learn more about Future e.V. 
GAIA-X is the next generation of a data infrastructure: an open, transparent and secure digital eco-system in which data and services can be made available, assembled and shared in an environment of trust. Representatives from business, science and politics from European countries are creating a federated system that meets the highest standards of digital sovereignty while promoting innovation. The data infrastructure is the basis for a thriving ecosystem. New possibilities for data and service exchange are emerging, which promote innovation, generate synergies and enable new, rapidly scalable business models.
nicos AG is "member of the first hour" at  Gaia-X
With the founding of the International Data Spaces Association, industry and researchers are actively involved in the designing of a trusted architecture for the data economy. More than 90 companies and institutions from diverse industries and of various sizes from 18 countries, including several Fortune 500 companies, globally active medium-sized companies, software and system vendors, are members of the association. The IDSA aims to ensure data sovereignty via an open, manufacturer-independent architecture for a peer-to-peer network which allows for the usage control of data from all domains.
itSMF is an association whose members are actively working to promote needs-based IT service management. The members of itSMF are primarily consulting companies and major corporations. Due to the growing importance of IT service management and ITILs (IT Infrastructure Libraries) in noventum projects, noventum decided to actively promote the sharing of experience and further develop the topic.
The IT Service Management Forum was founded in 1992 in England and is a supplier- and product-independent worldwide association whose members cultivate and promote the sharing of experience between IT service providers. In particular, this includes the improvement and further development of the de-facto standard ITIL as well as involvement in the creation of foundations for vocational training in the field of IT service management. itSMF is represented in the United Kingdom, the Benelux countries, the USA and Canada, South Africa, Australia, as well as in Germany, Austria, and Switzerland.
For many companies, the Microsoft platform is the decisive infrastructure component apart from SAP. The Microsoft Business User Forum e.V. (mbuf) is the only independent user community at the decision-maker level worldwide which maintains a strategic and business-oriented dialog with Microsoft in order to optimize this very platform for professional use. As an independent network of user companies, we sensitize Microsoft to the requirements of large companies. Furthermore, through direct dialog with the manufacturer, we achieve optimization of software products and services for use in large-scale environments.
Thousands came to Germany. A large number of them wish to integrate themselves permanently. Education and jobs are key to this. Many companies are already involved, as there is no shortage of openness and willingness. However, in certain cases there is insufficient knowledge and experience regarding how integration can be handled practically and successfully.
This is where NETZWERK comes in. It searches for answers to questions such as these: How can we get to know refugees and assess their qualifications? What do we need to pay attention to for their education and further training? What supervision do they require in their day-to-day work? What do the permanent staff require to smoothly integrate their new colleagues? It is developing into a pragmatic platform. At the same time, it does not conceal problems, but instead actively tackles the integration of refugees.
"ITSMIG" ("IT Security made in Germany") was established in 2005 under an initiative by the Federal Ministry of the Interior (BMI), the Federal Ministry for Economic Affairs and Technology (BMWi), as well as representatives of the German IT security industry. In 2008, it was initially converted into an independent registered association. Both the BMI and the BMWi were patrons.
After intensive discussions, TeleTrusT and ITSMIG agreed in 2011 that synergies could be tapped into in their spheres of activity. Since then, ITSMIG activities have continued under the roof of TeleTrusT as the TeleTrusT working group "ITSMIG."
The TeleTrusT working group "ITSMIG" pursues the goal of a joint external representation of the companies and institutions involved in the working group towards politics, the economy, the sciences, and the public at the German, European, and/or global level. The BMWi and the BMI are represented on the advisory board of the working group.
Bundesverband IT-Sicherheit e.V. (TeleTrusT) is a network of expertise which is home to both domestic and overseas members from industry, administration, consulting, and the sciences, as well as thematically related partner organizations. Thanks to the diversity of its members and partner organizations, TeleTrusT embodies the largest association of experts for IT security in Germany and Europe. TeleTrusT offers forums for experts, organizes events and/or involvement in events and expresses its opinion on current aspects of IT security. TeleTrusT is the responsible body for "TeleTrusT European Bridge CA" (EBCA; PKI-Vertrauensverbund), the expert certificates "TeleTrusT Information Security Professional" (T.I.S.P.) and "TeleTrusT Professional for Secure Software Engineering" (T.P.S.S.E.) as well as the trust seal "IT Security made in Germany." TeleTrusT is a member of the European Telecommunications Standards Institute (ETSI). The association is headquartered in Berlin.
The WCGE is a non-profit think tank: it conveys day-to-day ethics to the decision-makers of today and tomorrow—independently, with a global focus, and scientifically founded. It offers seminars, initiates dialog processes, and collaborates with researchers and teaching institutions. At the same time, it supports partners from politics, industry, civil society, and churches.