Secure, global data networks
Planning. Implementation. 24/7 operation.
for clients
for applicants
The experts in secure, global data communications.
nicos managed services guarantee the highest possible security and maximum IT availability in data communications.
We ensure reliable, high-performance IT infrastructure and protected collaboration between your worldwide locations. As a strategic partner, we assume overall responsibility for your entire data network with experience from:
with around
provider/carrier
nicos SmartWAN Solution
Concentrate on your day-to-day operations.
We will manage your network. Worldwide.
Our specialty is secure, global data networks.
We are familiar with global communications infrastructure as well as country-specific aspects and know what is feasible.
With nicos SmartWAN solution, we offer suitable solutions tailored to the technical and organizational requirements of your data network. Our portfolio of services and solutions includes managed services for the following areas:
Access
Infrastructure
Security
Cloud & Virtualization
Portfolio of services and solutions
Added value for your company
Single point of contact for the entire data network
Proactive 24/7 operation of your complete network including your own infrastructure
Efficiency & cost-effectiveness thanks to cross-technology concepts and provider neutrality
Central contract management and billing consolidation
24/7 network operation services with central SOC in Muenster, Germany (Westphalia)
As a managed services provider, we keep your network agile and flexible so that you will be able to react to future market challenges.
Secure
End-to-end encryption ensures the highest possible security for your data. Your network is protected against cyber attacks by firewalls.
Fast
To ensure your network achieves optimal performance, we combine the services of various carriers. Intelligent path control and application optimization in combination with bandwidth optimization ensure a high-performance network.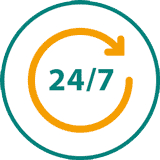 Reliable
On the hardware side of things, we institute double safeguards for your network. Secure operations are managed centrally by nicos experts in Germany with a 24/7 service desk.
Clients have trusted nicos AG – for around 20 years.
Reputable medium-sized German companies that are globally active trust in nicos AG's know-how and expertise.
Our list of clients includes global market leaders and medium-sized companies alike from all technology and service sectors—ranging from automobile suppliers, building materials suppliers, and banks to logistics companies and companies from the field of machine engineering and metalworking, the pharmaceutical industry, as well as the energy and production equipment sectors.
What clients say about nicos
Once again nicos AG has proven to be a reliable partner by engaging with our requirements and by devising an innovative solution. After the order was placed, a competent project team took over the complete migration, from configuration through shipment to control of the local service provider for the implementation on site. The structured approach and the fast reaction to unforeseeable difficulties confirmed to me that with nicos AG we have an innovative and reliable partner with very committed employees at our side.
Sascha Bereksasi, IT Application & Technology Management Expert, KFW Bankengruppe
With the migration from classic MPLS connections towards a state-of-the-art SD-WAN infrastructure including local Internet breakouts and WAN optimization in 2018, we have been able to increase the availability and performance of our corporate network as well the user experience of the locations.
Whether our own connections or lines provided by nicos, the network is almost entirely in the hands of nicos with end-to-end responsibility.
The competence of the network experts, the partnership-based cooperation, the flexibility – especially regarding specific non-standard requirements – as well as an attractive price-performance ratio convince us sustainably.
Frank Pickert, Senior Excecutive Manager IT, Dr. Oetker GmbH
Christian Plitt, IT Manager Infrastructure & Shop Floor Solutions, Dr. Oetker GmbH
With nicos AG, we have a strategic partner who has backed our expansion course for many years, ensuring that our WAN flexibly keeps pace with our development. nicos AG completely takes care of our entire WAN – including our own connections as well. We have a strong, reliable partner with experts who implement our requirements quickly and reliably thus ensuring secure and stable business operations.
Alfons Wahlers, Senior Vice President Group IT, dormakaba Group
that we as a medium-sized company react flexibly and proactively to our customers' needs. For this we need a scalable network that adapts quickly and flexibly to new requirements.
With nicos AG, we have found a competent partner who reacts quickly and directly to new situations and ensures the availability of our network – with constant stability – worldwide.
Bernd Rittmann, Head of IT EMAG Group, Hersteller von Präzisionsmaschinen und Fertigungssystemen
providing our transport capacity when it is particularly in demand. Short transit times and the latest reefer equipment, but also a network which ensures the highest degree of availability and communication—even far from the nearest coastline—are quintessential for Hamburg Sued.
With nicos AG, we have found an innovative and capable partner we can rely on.
Dr. Hanno Boeckhoff, Head of Global IT Hamburg Süd
In order to be able to respond to developments in the automotive industry, we rely on a high-performance network that enables cross-site communication across all applications worldwide.
The nicos has a broad partner network and was able to provide the appropriate transmission technologies with the required bandwidth to all global Mubea sites. The flexibility and solution-oriented action within the project phase as well as the direct access to the Service Operation Center with short communication channels for the rapid implementation of changes thus ensure our smooth business operations and contribute to customer satisfaction.
Detlef Gries, Global Head of IT Mubea Group